---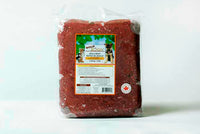 Sold in bulk so cost savings are passed down to you! 

Tasty and Nutritious Dog Food means your dog will love it!  

Grain-Free, Fruit & Veggie-Free formula modeling the ancestral dog diet 

Meat passes strict safety inspections ensuring safe consumption for your dog

Antibiotic and hormone-free chicken giving you peace of mind when serving your dog
Bold Beef for Dogs is a tasty and nutritious raw dog food, offering a low glycemic and low carbohydrate option that models the natural prey diet of a dog.
INGREDIENTS:
Lean ground beef, beef tripe, triple ground beef bone, beef heart, beef liver, beef spleen, organic Kelp
Bold Beef for Dogs is available frozen in 1 lb trial packs, 5 lb bulk vacuum bags or in a 6.5 lb bag of 5 oz patties (20 patties per bag).
Thaw and serve this healthy meal to your dog!
Our meat passes strict safety inspections for human consumption and is only sourced from government-inspected facilities that meet these same safety standards. All of our meats are antibiotic and hormone free and come from local Canadian farms.