---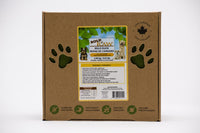 Duck comes in patty form for easy, mess-free thawing and serving 

Tasty and Nutritious Dog Food means your dog will love it!  

Grain-Free, Fruit & Veggie-Free formula modeling the ancestral dog diet 

Easily digestible ensuring your dog actually uses all the food's nutrients and easily rids of waste products giving them more energy to play
Bold Duck for Dogs is a tasty and nutritious raw dog food, offering a low glycemic and low carbohydrate option that models the natural prey diet of a dog.

INGREDIENTS:
Whole duck with bone (triple ground), beef tripe, duck liver, and kelp.
Bold Duck for Dogs is available in 1 lb trial packs or in a 6.5 lb bag of 5 oz patties (20 patties per bag).
Thaw and serve this healthy meal to your dog!
Our meat passes strict safety inspections for human consumption and is only sourced from government-inspected facilities that meet these same safety standards. All of our meats are antibiotic and hormone free and come from local Canadian farms.