---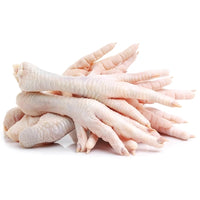 Hearty chicken taste with a fun crunch your dog will love!
Our premium, all-natural chicken feet come skin-on and include the lower leg portion of the bird. The small size makes these snacks ideal for both dogs and cats. This crunchy treat provides your pet with fun chew time, as well as some amazing health benefits. Available in a 2 lb sealed bag.

Naturally rich in glucosamine and chondroitin, chicken feet can help your dog or cat maintain joint health, and reduce joint pain caused by age or arthritis. And unlike for human consumption, there is no need to give these feet a pedicure by clipping off the nails before feeding them to your four-legged friend.