---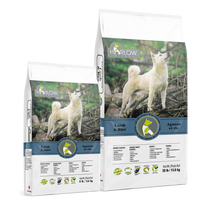 Harlow Blend formulas start with REAL MEAT, NATURAL INGREDIENTS AND ENHANCED VITAMINS & MINERALS. ORIGINATING FROM CANADA, THE UNITED STATES, AND NEW ZEALAND.
Features:

FREE RANGE New Zealand Lamb - An excellent source of high-quality protein and essential amino acids which are vital nutrients for your dog.

BROWN RICE - is rice that still has it's fibrous and nutritious shell. This shell can provide a number of vitamins and minerals that can improve a dogs health.

HYPO-ALLERGENIC- Lamb may be a better option for dogs who suffer from food sensitivities or food allergies caused by other protein sources such as beef or chicken.

YUCCA - Healthy stools - Stimulates the breakdown of ammonia to reduce stool & urine odour.

DOES NOT HAVE CORN - WHEAT - GLUTEN - SOY - These plant-based

ingredients are inherently more difficult for your dogs body to digest and derive nutrition from. These ingredients are common food allergens for dogs and can cause recurrent ear infections, skin problems, and digestive upset.

DOES NOT HAVE PEAS - LENTILS - CHICK PEAS - It is thought that these ingredients could prevent your pets' body from processing a vital amino acid called taurine. Taurine is essential for the healthy functioning of the cardiac system and without it, your dogs' body cannot function as it should. Many owners choose pea-free food for this reason, to be on the safe side.
DOES NOT HAVE - artificial flavour or added colour.

Every dog is different, feeding requirements will vary with size, age and activity. Monitor your dog's weight and adjust daily feedings as required.

Ingredients: Lamb Meal,Whole Ground Millet,Whole Ground Brown Rice,Whole Ground Barley, Sunflower Oil, Wild Salmon Meal,Nutritional Yeast, Whole Flax Seed, Dl-Methionine, Cranberries, Rosemary Extract, L-Lysine, Garlic Powder, Yucca Schidigera Extract, Vitamins: Choline Chloride, Vitamin E, Vitamin C, Niacin, Calcium Pantothenate, Biotin, Riboflavin, Vitamin A, Vitamin K1,Thiamine Mononitrate, Vitamin B12, Pyridoxine Hydrochloride, Vitamin D3, Folic Acid. Minerals: Calcium Carbonate, Potassium Chloride, Ferrous Sulfate, Zinc Proteinate, Copper Proteinate, Manganese Proteinate, Calcium Iodate, Whey Protein.