---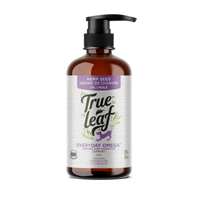 Help your pet stay active for years with hemp seed oil, omega-3 and pomegranate extracts, which support overall health, and reignite your pet's natural zest for life.
HEMP SEED OIL & POWDER
Omega-3 fatty acids from hemp help support a strong heart and healthy immune system.
FISH OIL
Omega-3 fatty acids from fish oil support optimal health of the brain, joints and heart.
POMEGRANATE SEED OIL
Rich in antioxidants and punicic acid help support the body's natural defenses and protect against oxidative stress.
Hemp Oil is a great way to get a more concentrated dose and works as a very palatable kibble topper.
ACTIVE INGREDIENTS per 2.5 ml pump
Cold Pressed Hemp Seed Oil (1990 mg)
Omega-3 (hemp seed, salmon, anchovy oil) (650 mg)
EPA (salmon, anchovy oil) (180 mg)
DHA (salmon, anchovy oil) (120 mg)
Punicic Acid (pomegranate seed oil) (80 mg)
INACTIVE INGREDIENTS
Rosemary extract (natural flavor), Vegetable Oil, Mixed Tocopherols (natural preservative).
Daily Dosage Amount: 1 pump (2.5 ml) per 22 lb weight

Weight:

Up to 11 lb

22 lb

44 lb

66 lb

88 lb+

 

Chews:

½ pump
(1.25 ml)

1 pump

(2.5 ml)

2 pumps
(5 ml)

3 pumps
(7.5 ml)

4 pumps
10 ml)