---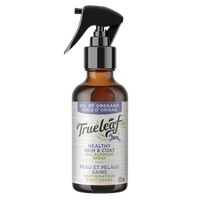 Enjoy a burst of freshness, as the powerful ingredients in this all-purpose spray help shield your pet from skin irritations. A natural choice for regular cleansing and deodorizing your pets formulated with lemongrass oil and Palo Santo oil for a nice clean scent. Palo Santo has a warm, delicately sweet and woodsy aroma that helps to freshen pet fur and bedding.

120 ml / 4 fl oz
INGREDIENTS
Mediterranean Oregano Oil (1.5%), Purified Water, Palo Santo Oil, Lemongrass Oil, Denatured Alcohol
Directions for Use: Shake bottle. Spray on dog's body, shielding the face and avoiding the eye area. Use as part of regular grooming for healthy skin and coat. Can also be used on dog bedding and crate as needed.