---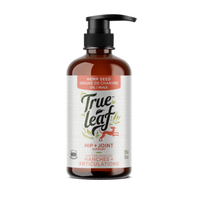 Support your four-legged companion's naturally active lifestyle with hemp seed oil and other beneficial ingredients, which help joint function, and reignite your pet's natural zest for life.
HEMP SEED OIL & POWDER
Omega-3 fatty acids from hemp support hip and joint function.
CURCUMIN FROM TURMERIC
Curcumin has powerful antioxidants supporting the body's natural defenses and helping to maintain a healthy immune function.
GREEN LIPPED MUSSELS (NEW ZEALAND SOURCED)
A unique marine source of omega-3, glucosamine sulfate and chondroitin, which helps to improve joint health, function and mobility.
Hemp Oil is a great way to get a more concentrated dose and works as a very palatable kibble topper.
ACTIVE INGREDIENTS per 2.5 ml pump
Cold Pressed Hemp Seed Oil (2300 mg)
Omega-3 (hemp seed, salmon, green lipped mussel) (400 mg)
Green Lipped Mussel Powder (150 mg)
Curcumin (from turmeric root extract) (35 mg)
INACTIVE INGREDIENTS
Silica (thickener), Rosemary extract (natural flavor), Vegetable Oil, Mixed Tocopherols (natural preservative).
Daily Dosage Amount: 1 pump (2.5 ml) per 17 lb weight

Weight:

Up to 9 lb

17 lb

34 lb

52 lb

65 lb+

 

Chews:

½ pump
(1.25 ml)

1 pump 
(2.5 ml)

2 pumps
(5 ml)

3 pumps
(7.5 ml)

4 pumps
10 ml)